Skip the greeting card aisle and head straight to an underground bunker.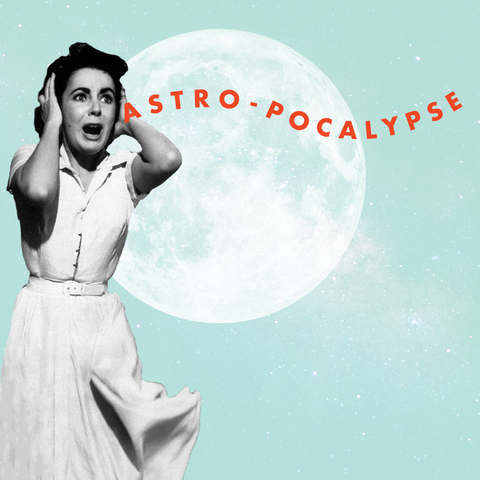 If you're anything like me (aka single and tooootally fine with it, why do you ask?), then this time of the year is always a big headache. But 2020 is gonna be a little different. Because it's everyone else's – as in couples' – turn to freak out, thanks to some crazy astro weather.
Venus is in Aries, its weakest position, making commitment sound boring and arguments more common. And since Aries' egocentricity rivals Leo's level of self-centeredness (love you, Leos!), compromising with bae will be *very* hard. So if you're in a relationship that has any ~issues~ at all, things are just going to get more volatile.
There's more! Mercury Retrograde starts on February 16th, but it will be craaawling its way out of its pre-shadow phase (the sometimes equally dark period before an actual Retrograde) on V-Day. Meaning: It might feel like all your probs are piling up out of nowhere in a single day.
Mercury Retrograde is also infamous for bringing old flames back around, and it goes without saying that this is the absolute worst time of the year for that one ex your partner absolutely cannot stand to show up.
So, yeah, if you're boo'd up, this Valentine's could be a tough one. Make your reservations way in advance, set as many reminders as you can to pick up those flowers, block who needs to be blocked, try to keep calm, and cross your fingers. You'll be fine… if you're lucky.
(And now I need to take this moment to say that for singles, Valentine's Day might be… finally kind of great? All the planetary action spells a perfect time for flings – and some of the best sex you'll ever have. So if you're looking for a little fun, calling up an ex or having an exhilarating one-night stand is not a bad idea. In fact, it's a good idea. And also a little something called justice. Happy Valentine's Day, everyone! *evil laugh*)
P.S.: in case you wanted a little more insight into this wild V-Day, here is your hyper-specific February 14th 'scope.
Aries: A romantic night in or wild night out – either way, your V-Day looks great.
Taurus: Trust me: Book a relaxing spa appointment, just in case.
Gemini: You're totes getting ~lucky~ this year.
Cancer: This holiday catches you right in the feels. Sorry, bb.
Leo: You'll go big for bae, even if they don't do the same for you. (They won't.)
Virgo: Don't count on getting the rom-com energy you deserve. Sorry to you too, bb.
Libra: Your night will be action packed, if ya know what I mean. *wiggles eyebrows*
Scorpio: Fire up the sexy Snaps – you'll be stuck at work.
Sagittarius: Mood: cozy night at home. Aka cancel that spensy dinner.
Capricorn: Some whips and chains as stress relief? It's that kind of night.
Aquarius: Your bedroom'll be as lit up as your birthday cake.
Pisces: Boo is definitely thinking about you rn. Expect gifts.
Article Source – Cosmopolitan.com