Retrogrades, Taurus season, and a supermoon — oh my!
Congrats, star sisters: We've officially made it through the first quarter of 2021! The astrology of April 2021 is picking up speed with lots of planetary shifts and the first retrograde in more than two months. March ushered in the astrological new year, Aries season, and the start of spring, so we're heading into this new month with a lot of new beginnings energy on our side. You'll definitely want to mark your calendar for some of the major astrological happenings in April 2021.
The first half of April will be dominated by the feisty energy of Aries season 2021, which climaxes during the spunky new moon in Aries on April 11 (which auspiciously happens to be the first new moon of the springtime). As we transition into the second half of the month, we'll start to feel the grounding vibes of Taurus season more intensely, as a whopping three planets enter the sign of the bull between April 14 and 19.In fact, all the personal planets in astrology will be switching signs this month, so we'll be feeling some significant energy shifts.
Speaking of shifts, the end of the month brings the first planetary retrograde since February, as Pluto retrograde 2021 begins on April 27. Until then, we're officially in a retrograde-free zone — so take advantage of this forward-moving energy before things get wonky.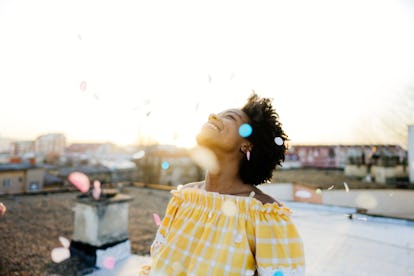 A Fiery Aries Energy Blast
Aries is the cardinal fire sign of the zodiac, and Aries season is all about taking action, acting on our passions, and fearlessly charging toward our goals. We head into the month of April with both the sun and love planet Venus in Aries, which brings out our feisty inner-leader and emboldens us when it comes to romance. And on April 3, communication planet Mercury enters Aries and joins the rest of the planetary crew, bringing mental and logistical matters into the mix and inspiring us to impulsively speak our minds, no matter the consequences.
This all culminates on April 11, during which we'll experience the cosmic renewal brought about by the April 2021 new moon. This is the first new moon of the astrological year and takes place in the zealously zingy sign of Aries, which charges it with the magic of an ultra-powerful new beginning. It's a great time to set brave and boundless intentions for the season ahead.
Grounding Into Taurus Season
After a high-powered trip through Aries season, Taurus' zodiac vibes will take the wheel mid-month, asking us to slow down, get grounded, and embrace our pragmatic side. On April 14, romantic Venus enters Taurus, which ups our sense of sensuality and indulgence when it comes to love and money. No need to rush anything in romance now, as Taurus likes to be pragmatic, take its time, and enjoy the present moment.
On April 19, both the sun and Mercury will join Venus in Taurus — which marks the beginning of Taurus season 2021. With three significant planets entering Taurus' earthy territory within just a few days of each other, the energetic shift will be palpable — and we'll finally be able to settle down and start making sense of all the plans we made during Aries season.
Powerful Emotions & A Super Full Moon
Emotions will get particularly potent during the last third of the month, as action planet Mars enters Cancer on April 23. Cancer zodiac energy is maternal, gentle, and sensitive — which is the opposite of Mars' take-charge, passion-fueled, rough-and-tumble vibe. Fiery Mars isn't very comfortable in watery Cancer, so we might feel like our ability to take action on things is a little stifled by overprotective feelings and intense moodiness.
As if Mars' descent into Cancer didn't put us deep enough into our feelings, we'll also have an emotionally charged super full moon rise in the water sign Scorpio's territory just a few days later on April 26. The April 2021 full moon, known as the Pink Moon, will shine a spotlight on our deepest sentiments and darkest secrets — so get ready to plunge beneath the surface and immerse yourself in life's greatest mysteries.
Let The Retrogrades Begin
The last few days of the month bring us a familiar but nonetheless annoying astrological phenomenon: the start of the year's retrograde season, which kicks off on April 27 with Pluto retrograde 2021. This backspin will have us diving deep into self-reflection and embracing serious internal transformations through October 6.
This planet's backwards journey happens every year and lasts for about five months, so it's nothing we haven't experienced on an annual basis already. But after a solid two months free of any retrogrades, this vibe might require some adjustment time.
Article Source – Bustle.com